West Again
The work featured samples of micro-greens and basil grown onboard, and rinsed clean on site.
Introduction
I recently moved to the Southwest to develop open-source agricultural control systems through the creation sculptures that grow food. West Again is a covered-wagon-esque modular greenhouse that was installed on the back of my truck, for the ISEA2012 Block Party. The work featured samples of micro-greens and basil grown onboard, and rinsed clean on site.
The initial settling of the United States happened in conjunction with a popular philosophy of domination, valuing the human element above all. However, today, more and more people are accepting the fact that humans are participants in the ecology within which we exist. West Again symbolizes this new philosophy as applied to agricultural systems connected to electronic systems. Although the term the Wild West might imply lawlessness, a term which has to do with the inability to govern a vast landscape, but the old West had many more farmers than outlaws, they just aren't as interesting on the big screen.
Currently the modular greenhouse from West Again is installed on the roof of the University of New Mexico's graduate MFA research building with solar powered open-source climate control systems.
--Russell A. Bauer, 2012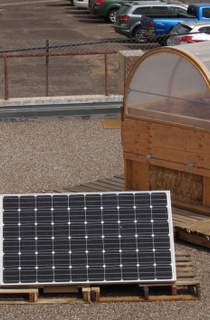 Reflection
Moving through this set of selected artworks and respectively down the food chain, West Again is a work that integrates living plants to present a hybrid form of art and agriculture. The merging of contemporary hydroponics technology and inexpensive open source electronic sensors and controllers represents a widespread movement in small-scale agriculture that nevertheless lacks affordable and easy to use tools. In addition, in the 21st century, most people, especially in cities, consume food without any exposure to where and how that food has been produced. By researching and presenting a portable agricultural production and monitoring system on a public street, this work not only shows an urban general public the process of growing food and even invites them to eat the product, but it also demonstrates how any individual could become a food producer and establish a more immediate connection to the plants he or she requires for survival.
No comments yet. Why not add the first?
Acknowledgements & Credits
Contributors
- Russell Bauer, Artist
- Carlos Beuth, Consultant
You need to be logged in to report.
×