Primate Cinema: Apes as Family
Primate Cinema: Apes as Family is an original drama made expressly for chimpanzees which premiered in front of an actual chimpanzee audience. The drama-for-chimps follows an urban female chimp, played by an actor in an animatronic costume, who meets a group of wild foreigners.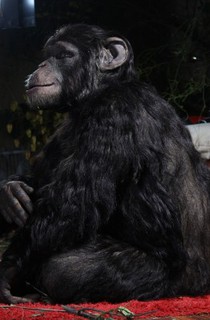 Primate Cinema: Apes as Family is a two channel video installation made by and for apes. The first channel is a 22 minute original movie I made expressly for chimpanzees at the Edinburgh Zoo. A primate drama, like many made for human audiences, the film follows a young female as she befriends a wild group of foreigners. The second channel, presented side by side with the movie, is a documentary of the chimps' responses to the film, when it premiered at the zoo. The two channels create a prism for human beings to learn about the inner world of chimpanzees. By watching a movie through chimps' eyes, we can imagine what they think and feel. Chimps are, after all, our closest relatives. Known for their complex social, cognitive and emotional lives, they also share with us a fascination with cinema.
Receiving a major arts award from the Wellcome Trust, and commissioned by The Arts Catalyst, I collaborated with comparative psychologist Dr. Sarah-Jane Vick to attempt to learn chimpanzee preferences for film. We worked with chimps at Edinburgh Zoo's Budongo Trail, who voluntarily accessed a research pod, viewable by the public. Over several months, I chose a variety of cinematic genres and primate behaviors to show the chimps – animation to documentary, foraging behavior to displays of strength. Professor Vick and I videotaped and observed their reactions.
Vick's analysis of the chimpanzees' responses to different types of media was inconclusive, though she found that females preferred television more than males. During the testing phase, several chimps were interested in human actors in chimp suits having sex. Some chimps were lured to the television by Teletubbies and kettle drums. A male responded to watching other chimp's "display behavior" by displaying himself – hooting and hitting the monitors.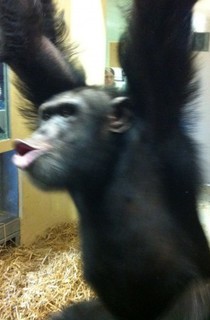 Chimps in zoos vary a lot in their personalities as well as in their life histories: some were raised by chimps in the wild, some grew up in zoos, still others were raised by humans in labs. Those raised in the lab – the "Beekse Bergen group" – were more interested in staying in their indoor sleeping enclosure and were much more interested in television overall. As with humans, it would be difficult to appeal to the entire species with one film.
Primate Cinema: Apes as Family is an indoor wildlife documentary. The film follows the young female protagonist as she meets and befriends a foreign group of chimpanzees – much as female chimpanzees actually do in the wild (think Wizard of Oz for chimps). Designed to appeal to a primate audience, it depicts social dramas surrounding status, territory, sex and food. The chimpanzees in the film are played by actors in chimp costumes, one of which is especially realistic, through animatronic puppetry.
-Rachel Mayeri October 5, 2011
Impact and Significance
The first work of this set, The Open: Mediating the Human and Non-Human Interface, is one of the first significant artistic media technology investigations in connection with the closest species to humans, the great apes. How nonhuman primates interact with media informs and illuminates the human relationship with media. This work also brings to light assumptions we make about our relationship to animals, investigating the nature of being human, and bringing up ethical questions about human and non-human interaction
The work in progress received an honorary mention from Ars Electronica in the hybrid art category. Primate Cinema: Apes as Family premiered in Liverpool at the Abandon Normal Devices festival. It has also been shown in London at The Arts Catalyst and at Sundance! 2013.
No comments yet. Why not add the first?
Acknowledgements & Credits
By: Rachel Mayeri
Commissioned By: The Arts Catalyst
With Support From: The Wellcome Trust
In Collaboration With: Dr. Sarah-Jane Vick
Kind Thanks To: The Edinburgh Zoo
Additional Support From: Harvey Mudd College & Mediterranean Institute For Advanced Studies
Director, Writer, Co-Editor: Rachel Mayeri
Producer: Matt Johnstone
Director Of Photography: Pj Raval
Narrative Editor: Augie Robles
Sound Designer: Tim Stutts
Lead Female Chimp: Denise Pearlman
Puppeteers: Dave Nelson And Norman Tempia
Narration: Isabel Balseiro
Lead Male Chimp: J.C. Lee
Male Chimp: Song Man Choh
Female Chimp: Heather Sultz
Female Chimp: Dawn Meyer
Juvenile Chimp: Lex Quarterman
Female Chimp: Angelina Prendergast
Animation: Janelle Miau, Matthew Benzinger, & Dai Toyofuku
Set Designer: Steve Pallrand
Costume Designer: Miss Kk
Mask And Prosthetic Designer: Joe Seely
Art Director: Shauna Nevens
Camera Operator: Allen Ho
Documentary Camera Operator: Ian Dodds
Gaffer: Syd Yang
Key Grip: Ian Quigley
Assistant Director: Elana Antzon
Office Production Coordinator: Chelsea Clark
Office Production Assistant: Locke Webster And Alan Marx
Set Production Assistant: Sean Mcdonough And Tim Pelletier
Office Interns: Sylvie Ramirez And Lauren Wimbush
Still Photographer: Matt Chaney
Wardrobe Stylist: Willie Watana
Art Department Interns: Ximena Amescua, Ted Neckar And Jenny Shaughnessy
Assistant Editor: Jose Ponce
Color Correction: Alex Juutilainen
Post-Production Assistance: Braden Neufeld
Thanks:
Rob La Frenais
Gillian Dickie
Steve Pallrand
Joe Seely
Erin Merritt
Alex Juhasz
Anne Bray
Roberta Kenney
Deborah Forster
Tran, T. Kim-Trang
Alex Juutinlainen
Many Chimp People
Edinburgh Zoo Caregivers
Edith, Eva, Pearl, Emma, Lucy, Liberius, Cindy, Rene, Paul, Ricky
You need to be logged in to report.
×