Urban Prospecting
The Urban Prospector Project is essentially a modified metal detector outfitted with a combustible gas sensor that can be built for under $100. This innovation can the be used to scan for pockets of oil locally through a sound responsive tool that is not only easy to use, but empowering to users. .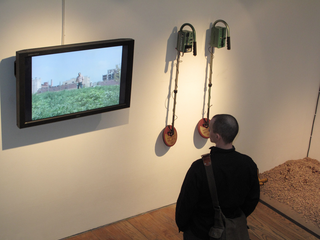 Introduction
Inspired by a massive underground oil spill in Greenpoint, New York, that leaked seventeen million to thirty million gallons of oil and petroleum into the soil from crude oil processing facilities over a period of several decades, Jon Cohrs created a device, the Urban Prospector, that enables city dwellers to prospect for oil under the pavement and parks of their environment.
The Urban Prospector is a metal detector outfitted with a combustible gas sensor. The device can be built for under $100 following a set of instructions available online and using pieces anyone can buy secondhand or on eBay. By scanning the surface of one's neighborhood with this device, a prospector might spot pockets of oil, particularly in the vicinity of oil spills, abandoned gas stations, or industrial sites. Whole communities can use the tool to identify contaminated spots in their neighborhoods and map out areas of toxicity in a tangible grassroots way.
The Urban Prospector is DIY, satirical, and political. The project has been presented to the public as an opportunity to earn some cash on the black market. The Urban Prospector website declares: "Much like Gold, the value of Black Gold, or oil, has grown rapidly for the last 50 years. In many urban areas, industry has left behind resources that are written off as toxic spills. One can strike it rich simply by prospecting these industrial areas."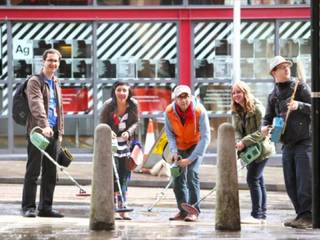 No comments yet. Why not add the first?
Acknowledgements & Credits
Jon Cohrs
URBAN PROSPECTING
2009
Adapted from the 'NEW ART/SCIENCE AFFINITIES'. Published by the Miller Gallery at Carnegie Mellon University and the STUDIO for Creative Inquiry and available at http://millergallery.cfa.cmu.edu/nasabook/
You need to be logged in to report.
×