McBlare: the Robotic Bagpiper
Using a custom air compressor to supply air and electromechanical "fingers" to control the chanter McBlare plays with robotic precision.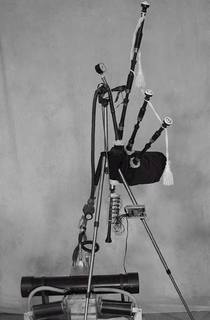 In preparing for the 2004 25th Anniversary of the Robotics Institute at Carnegie Mellon University it was suggested that the festivities should include a robotic bagpiper to acknowledge Carnegie Mellon's technical reputation and Scottish heritage. The design team of Roger Dannenberg, Ben Brown and Garth Zeglin set out to build McBlare: the Robotic Bagpiper that could play an ordinary, off-the-shelf traditional set of Highland Bagpipes with computer control. Using a custom air compressor to supply air and electromechanical "fingers" to control the chanter McBlare plays with robotic precision. McBlare is MIDI controlled, allowing for simple interfacing to a keyboard, computer, or hardware sequencer. A computer sends control signals to McBlare to operate the "fingers" to play many traditional bagpipe tunes as well as some recent compositions. McBlare can also add authentic sounding ornaments to simple melodies entered through a piano-like keyboard and play the result on the pipes. McBlare has performed in Miami, Pittsburgh, Vancouver, and in 2006, McBlare traveled to the International Piping Festival in Glasgow. McBlare has also appeared and performed on the Canadian Broadcasting Company and the BBC Scotland.
No comments yet. Why not add the first?
Acknowledgements & Credits
Credits
Texts: All texts were written by the exhibition participants.
Editor: Pamela Jennings, Pittsburgh, PA (USA)
This work has been republished from the 2007 Exhibition 'Speculative Data and the Creative Imaginary: Shared Innovative Visions between Art and Technology' curated by Pamela Jennings As part of the ACM Creativity and Cognition Conference at at the National Academy of Sciences' headquarters at 2100 C St., N.W., Washington, D.C. The original exhibition catalogue can be found at: http://www.pamelajennings.org/PDF/NAS_Catalog.pdf
Exhibition Sponsors
Office of Exhibitions and Cultural Programs of the National Academy of Sciences presenting a program of exhibitions that explore relationships among the arts and sciences, engineering and medicine.
http://www7.nationalacademies.org/arts/
The 2007 Association for Computing Machinery Creativity and Cognition Conference held in Washington D.C. June 13th – 15th, 2007, exploring the theme of cultivating and sustaining creativity: understanding how to design and evaluate computational support tools, digital media, and socio-technical environments that not only empower our creative processes and abilities, but that also encourage and nurture creative mindsets and lifestyles. - http://www.cs.umd.edu/hcil/CC2007/
National Science Foundation Computer, Information Science and Engineering (CISE) Creative IT Program, exploring the synergies between creativity and information technology, science, engineering, and design research.
Copyright is held by the author/owner(s) of the text and images reproduced in this catalog.
You need to be logged in to report.
×