Test People Series
As an artist, it is extraordinarily exciting to create a work that takes on a life and function of its own – and which can itself create unexpected and unpredictable things.
Sabrina Raaf's work has fallen under the categories of wearable sound art, sculptural installation, digital photography, video, telepresence art, animation, performance, and robotics. However, none of these labels are adequate in categorizing her body of work. This seems to be a common phenomenon for those practicing amongst and between disciplines. Having the freedom to be malleable in the choice of production methods and materials has always been of greater importance to Raaf then fitting a media sub-type. What drives her research and production is a fascination with designing sculptural systems that are fueled by real time data. Raaf is best known for making creative machines – machines that independently make art when cross-pollinated with the interaction of people around them. These artworks' behaviors are based in generative algorithms embedded within their circuitry. They rely on networks, reflexivity, and the interplay of randomness and pattern to initiate a genuine engagement with visitors. She views such innovations as tools for creating new experiential frameworks that question the very nature (or location) of authorship.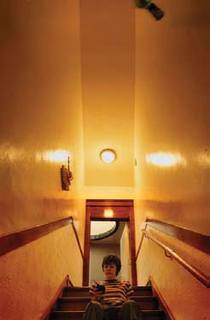 In 1999 Raaf began experimenting with transforming common elements of household and commercial building interiors into informative and metaphoric interfaces. Her first artwork along this line of inquiry was the Unstoppable Hum (1999). This was a large sculptural artwork that monitored various electromechanical activities in a building such as automatic doors, security, ventilation, computer and phone systems. It tracked their patterns of activity and then created musical compositions on the fly based on the complexity of activity in that space. Visitors were thereby informed about how often the structure around them was working towards maintaining the safety and comfort parameters of their habitat. In 2002 she created Dry Translator which included two custom designed audio vests and an interactive wall. When a gallery visitor touched the drywall of the gallery, they heard the sound of their touch not locally where their fingers hit the wall, but actually on their own torsos as the sound was amplified and transmitted wirelessly to the audio vest they were wearing. The walls thereby became skin-like extensions of the participant's own body. Participants were also able to record a series of touches or gestures on the drywall via an interactive console and, in doing so, leave a "touch message" for the next participant to play back on the vest.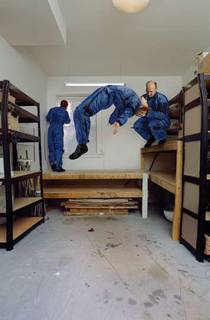 Her most recent research continues to focus on architectural interfaces but now also on telepresence and weightlessness. She produced a new series of video enabled rovers (robotic vehicles) which participants may use to roam through accompanying sculptural superstructures. This work was inspired in part by the exploratory rovers sent to Mars in recent years as well as the concurrent proliferation of webcam feeds on the Internet. She is also currently focused on responsive environment design. This is a field of practice that combines smart architecture and infosthetics (real-time information visualization). Her area of interest within this field is combining interactive systems with experimental architectural forms. These methods allow her to create ambient social infrastructures as well as to generate emergent datascapes. In creating works like these, she hopes to add a future where technological innovation points further towards giving each person access to a deeper understanding of, and enhanced connectivity with, the world around them.
The Test People series of photographs depict a future time where a capacity for flight (or controlled antigravity) has been developed in humans. Its boundaries are being studied and tested in a semi-scientific manner. This documentation makes evident the awkward – although sometimes euphoric – struggle for the test subjects to integrate these new possibilities for movement into the strictly gravity-based architecture of their domestic environments. Anxiety and tensions develop during the test period. Aspects of real war and gaming creep in. The "home" spaces are revealed to not be real homes but decaying 20th century architecture left in a state of vacancy. These are some of the last tests to be recorded photographically.
No comments yet. Why not add the first?
Acknowledgements & Credits
Credits
Texts: All texts were written by the exhibition participants.
Editor: Pamela Jennings, Pittsburgh, PA (USA)
This work has been republished from the 2007 Exhibition 'Speculative Data and the Creative Imaginary: Shared Innovative Visions between Art and Technology' curated by Pamela Jennings As part of the ACM Creativity and Cognition Conference at at the National Academy of Sciences' headquarters at 2100 C St., N.W., Washington, D.C. The original exhibition catalogue can be found at: http://www.pamelajennings.org/PDF/NAS_Catalog.pdf
Exhibition Sponsors
Office of Exhibitions and Cultural Programs of the National Academy of Sciences presenting a program of exhibitions that explore relationships among the arts and sciences, engineering and medicine.
http://www7.nationalacademies.org/arts/
The 2007 Association for Computing Machinery Creativity and Cognition Conference held in Washington D.C. June 13th – 15th, 2007, exploring the theme of cultivating and sustaining creativity: understanding how to design and evaluate computational support tools, digital media, and socio-technical environments that not only empower our creative processes and abilities, but that also encourage and nurture creative mindsets and lifestyles. - http://www.cs.umd.edu/hcil/CC2007/
National Science Foundation Computer, Information Science and Engineering (CISE) Creative IT Program, exploring the synergies between creativity and information technology, science, engineering, and design research.
Copyright is held by the author/owner(s) of the text and images reproduced in this catalog
You need to be logged in to report.
×