Absolute Quartet
Absolut Quartet generates a unique real-time situated musical experience based on online participant input. Allowing anyone to participate irrespective of musical ability, it highlights the ability we now have to create new and accessible aesthetic experiences with off the shelf products.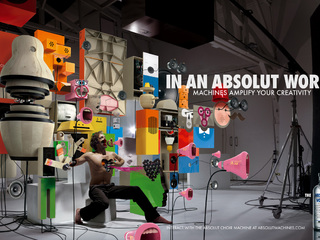 About this work
Absolut Quartet was developed by Dan Paluska and Jeff Lieberman and commissioned by the Absolut Visionaries project. It won the Award of Distinction in the Interactive Art Category at Ars Electronica in 2008. It also won the Gold Prize at the 55th International Cannes Lions Advertising Festival.
"The piece generates, in real-time, a unique musical piece based on the input melody [contributors online] have provided... This melody is played by three instruments. The main instrument is a ballistic marimba, which launches rubber balls roughly 2m into the air, precisely aimed to bounce off of 42 chromatic wooden keys. The second instrument is an array of 35 custom-tuned wine glasses, played by robotic fingers. Finally, an array of 9 ethnic percussion instruments rounds out the ensemble."
- From http://bea.st/sight/absolutQuartet/
The piece was sponsored by a corporate entity to create something which exemplifies the "coolness" of their brand, but what is interesting about Absolute Quartet is that it allows you to play a really advanced electronic physical instrument via a simple melody submitted online. The participant submits their composition through a straightforward online piano interface that is then played out on a beautifully constructed Arduino-controlled instrument in a gallery. It doesn't however just play out in a one-to-one relationship as there is a lot of algorithmic processing to create an engaging melody out of your original online submission.
The remarkable element for the audience is that it can either create the piece in-situ or play melodies from an unseen player online. The fact that it's a unique instrument and has a very poetic nature to it makes it beautiful to watch music be played by a machine.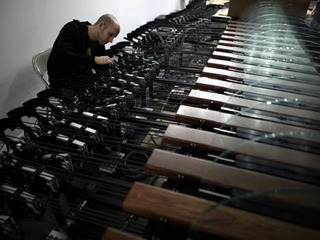 Integrative
While the vision, in many ways, is to bring recognition to a brand, creating works which very nicely marry together art, technology and science in a very polished way also gives artists and technologists a forum to create their work and to get sponsorship for their work. When you examine the documentation for this work, you see the opportunity that this unusual collaboration has given the creators also. You can see the team working together at every stage to make this instrument a reality. The outcome, a highly polished and unique electronic-physical instrument, speaks to that. It shows the level of collaboration within this group and the potential of it.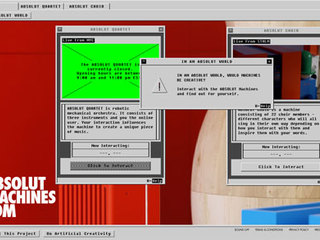 Innovation
Inspired by the animated video 'Pipe Dream' from AniMusic, the Quartet machine developers decided to explore how this animated vision could be brought out into the physical world. A key innovation was the ability for people to participate irrespective of musical ability: to have the computer and the machine interpret your work in a particular way and then render it through an instrument which is completely unfamiliar to us. Using things like ping-pong balls and wine glasses and the way it has been constructed allows you to see that there is music and melody in all of us.
Impact
Absolute Quartet explores how the computer and the machine can be a partner with you in transforming a very simple input into a more complex melody. You can imagine a highly trained musician being able to improvise on a simple tune for minutes alone. That experience is not going to be available to many people. The piece is successful in many ways because it has closed a loop between people online being able to participate and being able to have a transformative experiences that audiences might not otherwise have had.
No comments yet. Why not add the first?
Acknowledgements & Credits
ABSOLUT QUARTET (2008) Jeff Lieberman and Dan Paluska.
Part of the Absolut Machines campaign.
You need to be logged in to report.
×