Emerge Day 3: Celebration
On the third day of Emerge, participants unveiled their performances, artifacts and tangible visions of the future. In the evening we celebrated their amazing work with food trucks, live music, performances...and celestial visitations from silver-plated space fairies.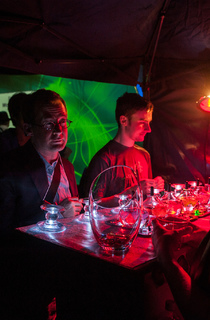 Neuro
Technology theorist Michael Chorost orders a truth elixir at "Neuro," an installation by media artist Boyd Branch. The installation explores how the human brain and cognition are chemical and genetic, rather than metaphysical phenomena. "Neuro" blended projections onto moveable screens with live performance by actors in costume to create an immersive, thought-provoking experience.
Photo Credit: John Dowd, Clutch Photos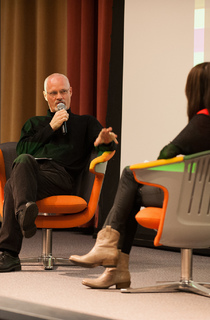 Emerge Duo: Failure
In an Emerge Duo conversation, structural engineer Keith Hjelmstad and filmmaker Ilana Rein discuss the different ways they define the word "failure." Emerge Duo conversations occurred throughout Emerge2013 and interrogated terms including "trust," "culture," "complexity" and "value" from a variety of disciplinary perspectives.
Photo Credit: John Dowd, Clutch Photos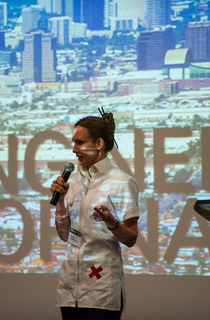 Natalie Jeremijenko
Artist Natalie Jeremijenko presents possibilities for hacking and engineering simple interventions to make cities more sustainable and respectful of their natural environments. As the director of the xDesign Environmental Health Clinic at New York University, Natalie prescribes creative health solutions for the environment that are carried out by an army of enthusiastic volunteers. You can read more about the Environmental Health Clinic in The New York Times.
Photo Credit: John Dowd, Clutch Photos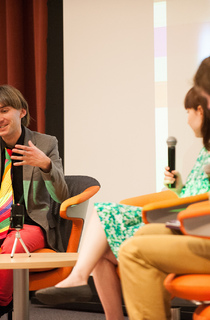 Cyborg Salon
Artist, activist and cyborg Neil Harbisson and journalists Emily Anthes and Will Oremus discuss the politics, aesthetics and future of cyborgs. Born with the inability to see color, Harbisson wears a prosthetic device called an "eyeborg" (which he helped design) that enables him to hear the spectrum, even subtle gradations in color beyond the reach of human sight.
Photo Credit: John Dowd, Clutch Photos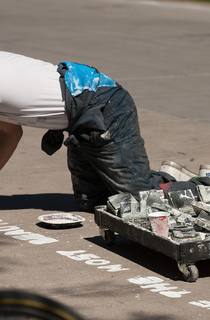 Twitter Verses
Students paint fragments of real-life stories submitted through Twitter on the sidewalk of ASU's Forest Mall as part of the "Twitter Verses" performance co-produced by Lance Gharavi, Jake Pinholster and Eileen Standley of ASU's School of Theater and Film.
According to the artists, Twitter Verses is "an iterative time-based performative sculpture" that offers "a kinetic meditation on the ancient problem of the one and the many. It is an encrypted parable of of our fantasies and anxieties surrounding narrative and truth in the digital age."
Photo Credit: Jose Gonzalez
The Future of Truth Commissions
Participants in the "Truth and Atrocities" workshop worked to imagine and present a "truth commission" from the future. The accused in the docket was an autonomous flying robot from the future that had inadvertently killed innocents. The dramatic highlight of the presentation came when the "voice" of the drone "testified" to its extreme remorse. The workshop was led by Daniel Rothenberg, who has more than 15 years of experience designing and managing rule of law projects in Afghanistan, Iraq and throughout Latin America, with a focus on genocide, truth commissions and post-conflict reconstruction.
Photo Credit: John Dowd, Clutch Photos
Petroglifs
Throughout Emerge2013, ASU Center for Science and the Imagination Visionary in Residence Bruce Sterling was hard at work with a diverse team of collaborators at ASU testing the limits of our rapid prototyping and fabrication facilities. The result of this whirlwind of creativity is an original exhibit of 21st century Petroglifs carved into native Arizona rock with laser cutters.
In the digital, virtual age, what are our eternal truths? Watch the short film directed by Jasmina Tesanovic to find out!
No comments yet. Why not add the first?
Acknowledgements & Credits
Emerge was the product of a major collaboration at Arizona State University and beyond. We are grateful to our sponsors and the many hours put in by planners, workshop leaders, volunteers and our collaborators.
Photo Credit: John Dowd, Clutch Photos
You need to be logged in to report.
×