Global Collaborative Visual Mapping Archive II
Will cell phone technology transform how we create/use images produced "on the fly"? In what ways do online visual databanks such as Flickr recontextualize the images we create and share? Can online images be used creatively to explore the construction of visual narratives through sequenced images?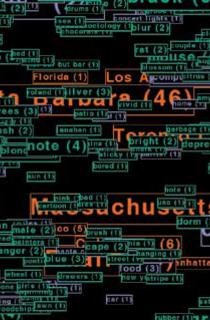 Global Collaborative Visual Mapping Archive (GCVMA) consists of a dynamically growing archive of cell phone transmitted images with metadata contributed by participants from anywhere within the reach of cellular transmission and reception in the world. The project highlights individual to community participation through cell phone transmission technology. The community of participants interacts with a visual archive of images without spatial-geographical boundaries, submitting their own contributions and annotating others, anywhere from the private space of their living room to the public space of Times Square in New York City. The received images are visualized within a virtual 3D architectural structure, their organization based on a number of metadata criteria such as cell phone numbers, location, service providers, time and date of transmission, and categories and descriptive tags contributed by participants.
GCVMA premiered at the International Society of Electronic Arts (ISEA) 2006 San Jose, California juried exhibition and conference in July 2006. At ISEA, the installation consisted of a 12 foot cinematic projection.
The version of this project for the Speculative Data and the Creative Imaginary exhibition at the National Academy of Sciences implements voice annotation that enables participants to rate images with metadata information. That information is used to cull images from Flickr, the popular online digital photo archive web site, to juxtapose images contributed through cell phone transmission.
Contributors to this project include, George Legrady, concept, aesthetics, and project management; Angus Forbes, systems engineer & visualization; and Mark Daggett, social software engineer, web services & application programming.
No comments yet. Why not add the first?
Acknowledgements & Credits
Credits
Texts: All texts were written by the exhibition participants.
Editor: Pamela Jennings, Pittsburgh, PA (USA)
This work has been republished from the 2007 Exhibition 'Speculative Data and the Creative Imaginary: Shared Innovative Visions between Art and Technology' curated by Pamela Jennings As part of the ACM Creativity and Cognition Conference at at the National Academy of Sciences' headquarters at 2100 C St., N.W., Washington, D.C. The original exhibition catalogue can be found at: http://www.pamelajennings.org/PDF/NAS_Catalog.pdf
Exhibition Sponsors
Office of Exhibitions and Cultural Programs of the National Academy of Sciences presenting a program of exhibitions that explore relationships among the arts and sciences, engineering and medicine.
http://www7.nationalacademies.org/arts/
The 2007 Association for Computing Machinery Creativity and Cognition Conference held in Washington D.C. June 13th – 15th, 2007, exploring the theme of cultivating and sustaining creativity: understanding how to design and evaluate computational support tools, digital media, and socio-technical environments that not only empower our creative processes and abilities, but that also encourage and nurture creative mindsets and lifestyles.
http://www.cs.umd.edu/hcil/CC2007/
National Science Foundation Computer, Information Science and Engineering (CISE) Creative IT Program, exploring the synergies between creativity and information technology, science, engineering, and design research.
Copyright is held by the author/owner(s) of the text and images reproduced in this catalog
You need to be logged in to report.
×